Our GIFT For You
When was the last time you gave yourself a gift?
This awesome online service award redemption program will make your work life easier…and bring you recognition from your co-workers…for a choice, well made!
No other program engages employees like Our GIFT For You.
Your co-workers will browse through an incredible selection of gifts from top-quality manufacturers…base their selection on multiple product photos… view YouTube short informational videos…read peer product reviews…and share their experience via social media. This personalized award redemption program will be well received by your tech savvy staff.
No other program is easier to administer.
Backed by THE BEST at employee recognition and appreciation…we are Award Concepts.
We've got you covered every step of the way,
…and we'll keep you moving forward with innovations like Our GIFT For You.
Do yourself a favor.
Take a closer look at the flyer to find out more about Our GIFT For You.
Give us a call. We'll set up a webinar so you can see this program in action.  Request a webinar now.
Don't wait – you deserve it!
Related Flyers
Points Program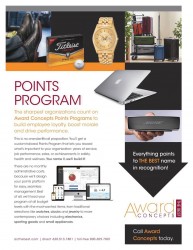 THE BEST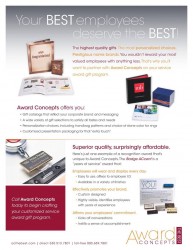 Safety Points Program