Custom Year of Service Badges & Awards
Honor your most loyal employees in the most obvious way — with a Badge ACcent "years of service award" that gets seen by everyone!
What is Badge ACcent?
Badge ACcent is a badge of honor that an employee wears daily, celebrating his or her years of service recognition.
Benefits of Badge ACcent
This badge is a visible, public display that calls attention to an employee's loyal service. It stands out among years of service awards because it:
• Affixes to an employee I.D. instead of clothes
• Is easy to use — no need to alter an employee's I.D.
• Looks great and is available in various finishes
How It Promotes Your Branding
Highly cost-effective, our badge honoring years of service attracts attention in a way that amplifies your company's messaging.
• High visibility reinforces your branding
• Custom design matches your existing logo and messaging
Ways It Affirms Employee Commitment
As your longtime employee wears the badge in the workplace, people notice, affirming his or her commitment. The badge can:
• Spur conversations about the company
• Instill a sense of accomplishment in an honored employee
Contact us today about incorporating the Badge ACcent in your business!
Other Award Concepts Programs
The years of service recognition badge is just one of the employee awards we offer at Award Concepts. Partner with us to recognize employees via the highest-quality gifts, the most personalized choices and prestigious name brands!
Award Concepts offers you:
Gift catalogs that reflect your corporate brand and messaging
• A wide variety of gift selections to satisfy all tastes and needs
• Personalization choices, including handbag patterns and choice of stone color for rings
Customized presentation packaging for that "extra touch"
Learn more about our recognition programs here!
Related Flyers
Manufacturing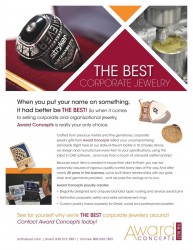 THE BEST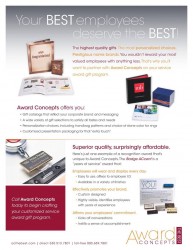 Greek Jewelry