Healthcare Safety Awards & Recognition
"Oops." "Sorry." "My bad."
In any health care facility, what might seem like a minor safety infraction, especially in infection control, can potentially become a matter of life or death. Keeping staff and patients safe and healthy means strict adherence to protocol, no matter how hectic the shift becomes.
Safety comes first at Award Concepts, just like it does in your facility. And we have a stellar safety record because we practice what we provide. I'm talking about our new Healthcare Safety Recognition Program.
This points-based program helps you reward – and reinforce – safe practices. It's easy to administer and a snap to track. Best of all, it's a great way to engage all employees from doctors and nurses to aides and administrative staff.
You'll find more information about the program in our flyer, or better yet, give us a call. No risk, big rewards!
Related Flyers
Time 2 Turn 2 Award Concepts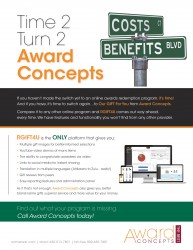 Make the Switch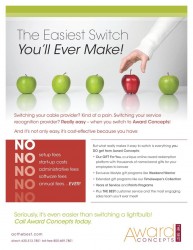 Testimonial