Golf Items for Employee Recognition
You know what it takes to be the best in your position – and that includes partnering with THE BEST. Only one service award company claims that title…and we didn't get it by being like all the rest.
What makes Award Concepts different? For starters, we're forward-thinking young professionals paired with seasoned veterans of the recognition industry. We dare to take a chance because we have the expertise to make it work. That's especially true of our gift offerings.
Here's a challenge for you: Review your current gift offerings provided by your existing vendor. Next, download and read this flyer. I'll bet you've never seen anything quite like it before. And there's much more where that came from!
Contact us and discover a better program. Your employees will love it – and they'll love you for making the change. Take a chance – after all, you've got THE BEST behind you.
Innovation is only part of the story. We have a great reputation for service and will always work hard to deserve your business. Let's start a conversation!
Related Flyers
Our GIFT For You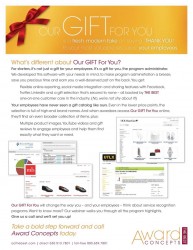 Weekend Warrior Employee Rewards Collection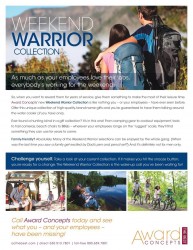 Safety Points Program