Timekeeper Watch Collection Employee Recognition
One pocket watch may have been good enough for our great-grandfathers, but most of us today prefer a little more variety in our timepieces. At Award Concepts, we prefer a LOT of variety!
That's why we loaded our online award redemption program, Our GIFT For You, with more watch selections than any other recognition provider. Each collection features 15 to 30 watches for men and women, so your employees can choose the perfect complement to their wardrobe…and never have an excuse to be late for work!
At Award Concepts, we pride ourselves on our timeliness too. Whatever you need, whenever you need it, we'll get it to you fast and we'll get it to you right.
Don't waste another minute – check out the flyer and contact us today!
Related Flyers
First Impressions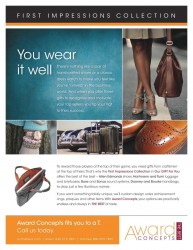 THE BEST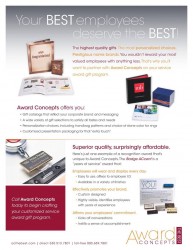 Epicurean Gifts Employee Recognition Program