Reward Your Employees with Shoes by Allen Edmonds
Looking for unique ways to excite and engage your sales force? To acknowledge and show appreciation for your staff's achievements? Look no further than Award Concepts.
We may not be the biggest, but we're not shy about being the best! We offer the most innovative programs and products in the industry – including some you may not have thought of (but you'll be glad we did).
One example is Allen Edmonds Shoes, our newest brand offering represented in this flyer. What a great way to recognize your top performers – with a gift of real distinction, one they'll appreciate for years to come.
We also provide incentive sales performance rings and recognition jewelry, gift selection catalogs, and plaques and crystal awards – all backed by customer service that's second to none.
If we've whetted your appetite for excellence, please contact us. Let's work together to take your employees and your business to the next level! Thank you for the opportunity – we look forward to speaking with you.
Related Flyers
Make the Switch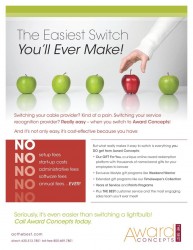 Our GIFT For You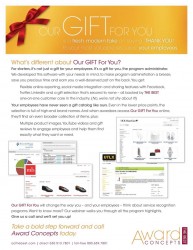 Golf Items for Employee Recognition